Sol Koffler Graduate Student Gallery
Image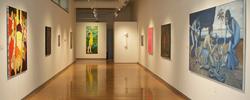 Graduate students value the opportunity to both exhibit their work and help program the gallery space with an ongoing series of well-conceived group and departmental exhibitions.
The learning experience afforded by preparing for and mounting exhibitions is especially important to furthering the professional practices of master's degree candidates.
Upcoming exhibitions
Graduate Digital + Media Biennial
Jan 19–Feb 18
Reception Jan 18
Inside the gallery
Ever-changing exhibitions throughout the academic year are generally on view for two to three weeks and are organized by curators from Campus Exhibitions working in conjunction with representatives from the Student Gallery Board. While many shows are departmentally based, others are organized thematically or driven by questions and concerns of particular interest to students.
Past exhibitions
Furniture Design Graduate Biennial
Oct 20 – Nov 5, 2023
Interior Atlas: Ways of Research
Sep 7 – Oct 12, 2023
Graduate Selections
Jun 1 – 4, 2023
Graduate Painting Exhibition
May 5 – 17, 2023
Graphic Design Graduate Biennial
Apr 14 – 30, 2023
Industrial Design Graduate Biennial
Mar 17 – Apr 9, 2023
Graduate Jewelry + Metalsmithing Biennial
Feb 24 – Mar 12, 2023
Graduate Printmaking Biennial
Jan 27 – Feb 19, 2023
Graduate Glass Biennial
Dec 2, 2022 – Jan 2, 2023
Graduate Sculpture Biennial
Nov 11 – 27, 2022
Landscape Architecture Graduate Biennial
Oct 7 – Nov 6, 2022
A Moment That Lasts Beyond Now
Sep 7 – Oct 2, 2022
Graduate Selections 2022
June 3 – 5, 2022
Furniture Design Graduate Biennial
Apr 8 – May 12, 2022
Graduate Textiles Biennial
Mar 4 – Apr 3, 2022
Graduate Ceramics Biennial
Nov 12 – Dec 5, 2021
Arrival: Work by Photography MFA students
Oct 8 – Nov 7, 2021
18 Perspectives on Voice
Sep 7 – Oct 3, 2021
Glass Graduate Biennial
April 17 – May 2, 2021
Sculpture Graduate Biennial
Mar 27 – April 11, 2021
Not My First Rodeo
Nov 21, 2020 – Feb 7
Scattered Points Across the Map: Graduate Biennial 2020
Oct 31 – Nov 15, 2020
Righteous Design
Oct 6 – 25, 2020
American Dreams
Feb 15 – Mar 12, 2020
Crossing Threads Grad Biennial
Jan 17 – Feb 4, 2020
Context
Nov 15 – Dec 4, 2019
Graduate Biennial
Oct 25 – Nov 10, 2019
Overview: objects are closer than they appear
Oct 4 – 20, 2019
I Don't Feel at Home in This World Anymore
Sept 4 – 29, 2019