Jim Barnes
Critic
Image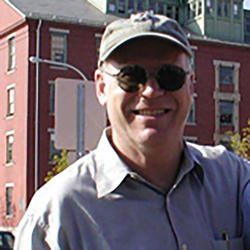 BARC, Rhode Island School of Design
MS, Montana State University Bozeman
James Barnes received his BArch from RISD in 1969 and was awarded the Henry Adams Medal for Excellence in Architecture upon graduation. He completed graduate work at Montana State University where he began his teaching career. As a RISD faculty member, Barnes served as interim dean of the Division of Architecture (now Architecture & Design) and department head of Interior Architecture, and is a recipient of RISD's John Frazier Award for Excellence in Teaching. He is also the recipient of a RISD Alumni Faculty Award.
Barnes is a registered architect certified by NCARB with an active practice in the southern New England region. His professional work has been by recognized by the RI Chapter AIA, the Providence Preservation Society and RI Monthly magazine. Award-winning projects include an addition to the First Unitarian Church of Providence on Benefit Street, the former headquarters for ITEM New Product Development on Point Street and 161 South Main Street, home of RISD's Industrial Design department. Barnes currently serves on the Board of Directors of the AIA-Rhode Island, the Providence Revolving Fund and Ace Mentoring RI, where he is co-chair.
Academic areas of interest
Jim Barnes is part of the faculty team and occasional coordinator of the core studios Architectural Design and Urban Design Principles. His advanced elective studios focus on urban issues in Providence. Barnes also teaches Integrated Building Systems and Professional Practice. He was instrumental in initiating the Professional Internship experience now required in the curriculum in Architecture and has served as an intern development program coordinator for NCARB at RISD. Currently he coordinates curriculum issues for Architecture in the areas of building technology and professional practice. He also assists the department in its efforts at community engagement through the ACE Mentoring Program and the Lincoln School project, in which high school students are mentored and taught by RISD Architecture students.
Spring 2023
FOUND-1006-20 Studio: Spatial Dynamics