Masha Ryskin
Associate Professor
Image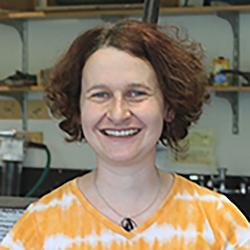 BFA, Rhode Island School of Design
MFA, University of Michigan, Ann Arbor
on sabbatical academic year 2022/23
Masha Ryskin is a Russian-born multidisciplinary artist based in Providence. She received an academic art education in Moscow, Russia, followed by a BFA in Printmaking from RISD and an MFA from the University of Michigan.
Ryskin works in a variety of media, including drawing and painting, printmaking and installation. Her work, exhibited nationally and internationally, is concerned with a sense of place as a metaphor for memory, history and the passage of time. She has participated in a number of artist residencies, both in the US and abroad, and received many grants and fellowships, including a Fulbright Fellowship to Oslo, Norway.
In addition to her individual practice, Ryskin frequently collaborates with other artists, musicians and dancers and works as a designer. Her work has been reviewed and published in a variety of publications, including The New York Times.
Academic areas of interest
Her interests include painting, printmaking, installation.