Paula Gaetano-Adi
Professor
Image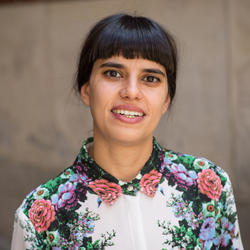 MFA, The Ohio State University Columbus
Paula Gaetano Adi (born in San Juan, Argentina) is an artist and scholar working in robotics, performance, sculpture and interactive installations. Her practice draws from studies of technoscience, decoloniality and artificial life, and enacts speculative scenarios that stress the power of technological speculation in illuminating new social narratives and new images of the possible.
Prior to joining RISD, Gaetano Adi served as faculty for the Electronic Arts program at the Tres de Febrero National University in Buenos Aires and directed the undergraduate and graduate programs in New Media Arts at the University of North Texas. She holds an MFA in Art & Technology from The Ohio State University and is currently a PhD candidate at the European Graduate School in Switzerland. She was a visiting scholar at the Center for Research in Engineering, Media and Performance at UCLA, an artist-in-residence at Sachaqa Eco Art Center in Perú and a resident at EMPAC, Rensselaer Polytechnic Institute.
Gaetano Adi has presented and published her work and research extensively in conferences and publications, contributing actively to the field of new media art. She has exhibited her works in both solo and group shows in museums and art festivals throughout Europe, Asia and the Americas in such locales as National Art Museum of China, MejanLabs Stockholm, Ars Electronica, ARCO Fair, FILE Festival Brazil, Centro Andaluz de Arte Contemporáneo Sevilla, National Museum of Poznan, Berlin BrandenburgerTor Foundation, Museum of Modern Art Buenos Aires, Festival Transitio_MX, Bienal Sur, Fundación Telefónica Madrid and Vancouver National Art Gallery. Among other distinctions, she is the recipient of the First Prize VIDA 9.0, Argentina's National Endowment for the Arts award, the First Prize 'LIMBØ' Museum of Modern Art of Buenos Aires and Fundación Telefónica's Art & Artificial Life Award for Ibero-American artists.
Academic areas of interest
Robotics and Robotic Art, Artificial Life and Artificial Intelligence, Interactivity, Embodiment, Performance, New Media Art, Phenomenology, Feminist Techno-science, Postcolonialism and Decolonization, Mestizaje, Postcolonial Techno-science, Posthumanism, High+Low Technologies, Digital Fabrication, Physical Computing and Kinetics, Latin American Art and Studies, Pedagogy.