RISD + URI
Image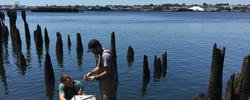 Responding to dramatic ecological, social, urban and climatic transformations occurring worldwide, Landscape Architecture has partnered with Marine Affairs at the University of Rhode Island (URI) to offer a joint graduate program that inspires cross-disciplinary strategies to address these urgent problems.
Students who complete the program earn both a Master of Marine Affairs (MMA) and Master of Landscape Architecture degree. The joint program allows you to enhance your design education with studies in coastal and marine social science, economics, policy, planning and law.
In developing a multidisciplinary foundation of knowledge and skills, MLA/MMA candidates broaden their understanding of complex issues like climate change and ecosystem management, as well as related policy issues. Graduates of the program are well positioned to address some of the most pressing planning, policy and design challenges currently impacting coastal and marine environments.
For more information
Learn more about the joint master's in Marine Affairs (MMA) and Landscape Architecture (MLA) at uri.edu. While preparing your RISD MLA admissions materials, please state your interest in the joint degree program in your letter of intent. Official joint degree applications will be accepted in the spring of your first year at RISD.
You can also contact Landscape Architecture Program Coordinator Jason Villapando at jvillapa@risd.edu for more information.