Apparel Design Students Stage First Live Runway Show Since 2019
Image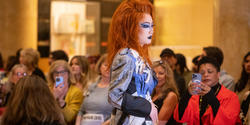 Music booms throughout the Fleet Library at RISD and cameras flash as models take to the runway showing off the work of this year's 23 graduating Apparel Design seniors. Epilogue [23] marks the first in-person Apparel Design senior show at RISD since 2019. The event combined a runway show, installations and performance art celebrating the multidisciplinary work of this year's senior class.
"Showing work on the runway was really a joyful experience," says Disco Amber 23 AP, who closed the show with a lip-synching performance of And I'm Telling You from Dreamgirls. "I think I will always want to perform," says Amber, who is now contributing their work to the growing underground drag scene in China. "If I can inspire even just a few queer youths to see that there is a place for them, I would feel really good about what I am contributing with my art."
Department Head Lisa Z. Morgan was moved by the breadth of the collections and the various topics the students addressed. "We've got some beautiful work in this show," she says. "Students are exploring social systems, cultural heritage, body politics, race and futurism to name a few. There is a lot of quietly powerful work—the sort of work that is going to stay with you."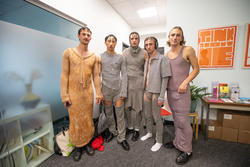 Tito Crichton-Stuart 23 AP and Yasemin Ezel Kiraç 23 AP organized the show. "It has been a year-long process and very rewarding to see the work come to light," says Crichton-Stuart. "I feel personally very attached to this show."
The artist uses single- and double-bed knitting machines to make what he describes as "queer knitwear," an exploration of his "lifelong struggle" with his sexuality. "I've spent my whole life hugging the lines between masculinity and femininity," Crichton-Stuart explains. "This collection is the physical depiction of my sexuality and the internal confusion I continue to stretch, distort and play with through my clothing." 
In an exploration of her culture, Jess Okello 23 AP created looks inspired by African rock music and postcards, along with a traditional kanga that was gifted to her. "I'd never heard vintage African music that was so soulful and psychedelic," she says. "It was significant to me because I wanted to hear stuff from my background that also fused with my interests."
Also on the runway were repurposed traditional Japanese kimonos by Alisa Boardman 23 AP, which later appeared in a film installed in another room of the library. Boardman explains that her half-Japanese identity often leads her to feel like an outsider, and she wanted to emphasize the importance of reinserting herself into the history of her culture.
"The film was really about the idea of connection and experience," she says. "I want other mixed-race people to know that to be in between does not isolate you, but actually connects you and creates a larger community."
Image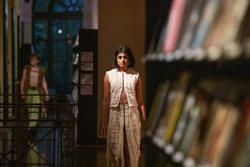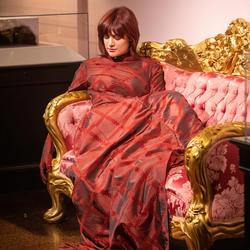 Also working with film was Zarah Green 23 AP, whose performance work in Epinephrine explores femininity and the concept of taking agency over one's own body while processing past traumas. "I think film is really special because you can put such extremes in front of people and really confront them," says Green. "I often like to combine two things that shouldn't be together. Sometimes it can be a little uncomfortable for the audience."
Green also presented their work during the show in a performance piece on the library's mezzanine. "I tried to maintain the same honesty and sense of confrontation in my performance as I shared in the opening scene of my film," they explain. "As I sat on the couch, I tried to focus on my posture and have a strong and powerful presence, rather than just lounging. It felt good."
Yue Zi 23 AP used her work to confront the audience on an entirely different topic, the "absolute understanding of death, which leads to an exploration of skeletal forms and bones," she explains. Zi meticulously removed each individual thread from her garments in an effort to give the garments "a life fully lived" before they are presented on the runway, all while wearing a "foundation look" of her own creation for inspiration.
"What the students are doing is really beautiful," Morgan says. "There are provocations in the work that are critiquing fashion itself, and when that meets with craft and tenderness and thoughtful making, it becomes a really beautiful space to think about what fashion and clothing is but most importantly, what it can do."
—Isabel Roberts / photos by Jo Sittenfeld / top image garment by Disco Amber
May 31, 2023