A Call to Change the Narrative
Image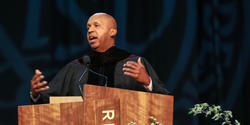 At RISD's Commencement ceremony on Saturday, June 1, keynote speaker Bryan Stevenson urged the Class of 2019 to "resist the politics of fear and anger" with the hope and power their creativity brings to the world. "When we do this we begin to create a different culture, a new kind of future," the Equal Justice Initiative founder pointed out, calling on RISD's newest alumni to invest their talents in creating more just societies.
"I believe in liberation–that there's something better waiting for us. Stay hopeful."
In addressing the 486 bachelor's degree and 214 master's degree recipients at the Rhode Island Convention Center, the acclaimed public interest lawyer emphasized the importance of "getting proximate" to individuals and communities in need. By listening to and learning from marginalized and oppressed people, Stevenson said, artists and designers are uniquely positioned to "at a bare minimum… affirm their humanity—and this can change the world."
"I believe in liberation—that there's something better waiting for us," he continued. "Stay hopeful. Our hope is our superpower."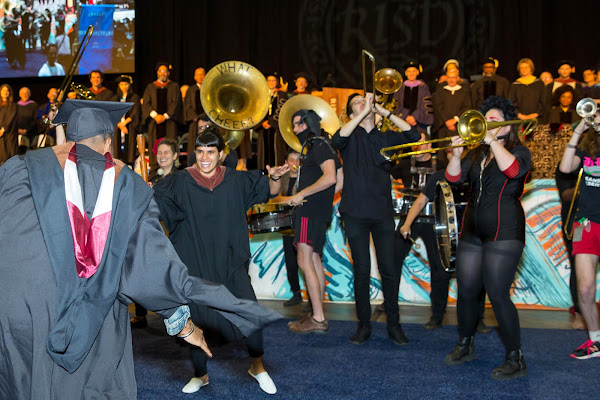 Stevenson and his fellow honorary degree recipients—writer Chimamanda Adichie, artist Theaster Gates and activist Nadya Tolokonnikova—each expressed admiration and expectation for what RISD graduates will accomplish in the years ahead. Gates, who also spoke at a separate graduate hooding ceremony on May 31, asked students to think of making as "a way of shaping hearts and minds," reaffirming a prevailing faith in art and design as a force for good.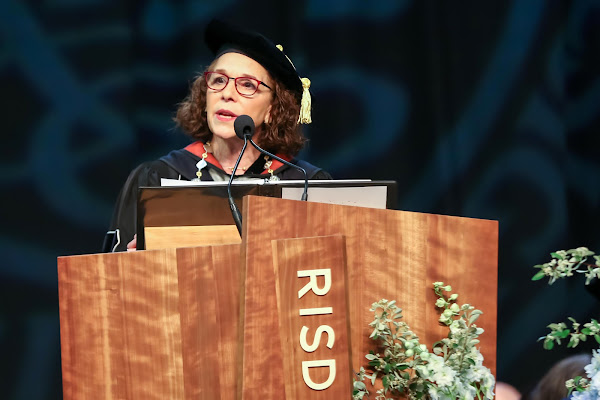 The galvanizing words of hope were met with enthusiasm by students and thousands of guests—their families, friends and members of the RISD community who attended the joyous event. In her opening remarks, President Rosanne Somerson 76 commended the graduates for fueling an intense focus on social justice and sustainability issues—pillars of RISD's new strategic plan. "You possess the unique talents and multilingual practices needed to make us more aware—to make us act," she said before urging new graduates to direct their abilities toward today's most pressing challenges.
"We need you to help us lead... and to be uncompromising in your values."
"We need you to help us lead in the face of uncertainty and to be uncompromising in your values," Somerson said. "Your powerful and connected minds, hands and hearts can see the unseen. Bring this into tangible form and then help others to see it as well."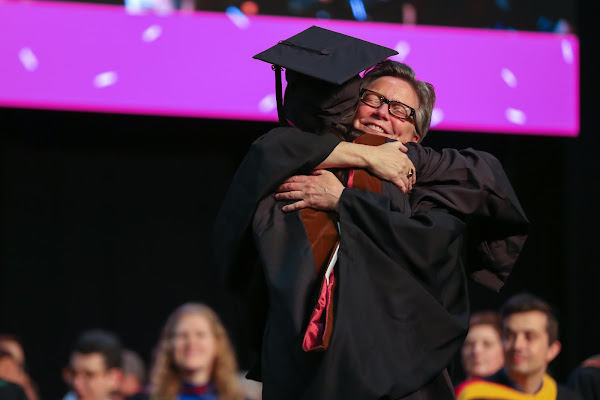 This year Professor of Film / Animation / Video Sheri Wills and Assistant Professor Nikki Juen 90 GD, who teaches in Experimental and Foundation Studies, accepted RISD's highest pedagogical honor: the John R. Frazier Award for Excellence in Teaching. In presenting the award, Provost Kent Kleinman noted each woman's commitment to academic excellence, community-building and modeling engaged citizenship in creative practice.
Others receiving special recognition for their demonstrated dedication to social justice included Sruti Suryanarayanan 19 FD, who earned the Warren Family Social Engagement Award, and Qualeasha Wood 19 PR, who accepted the Steven Mendelson Award for Community Service. Somerson also acknowledged Brown University Professor Emeritus Dr. Joseph A. Chazan, who was awarded RISD's first-ever President's Medal of Honor for his lifelong generosity and arts advocacy.
"We are responsible for the change we want to see."
Representing fellow graduates who are active in fighting climate change, Tara Gupta 19 FAV urged the crowd to join them in their efforts. "We are living in a climate emergency," she said, "so it is necessary that we act now."
Graduate student speaker Ramon Solis MLA 19 encouraged his fellow advanced degree recipients to enjoy the well-earned fruits of their accomplishments at RISD and then to "get back to work" on making a meaningful impact in the world.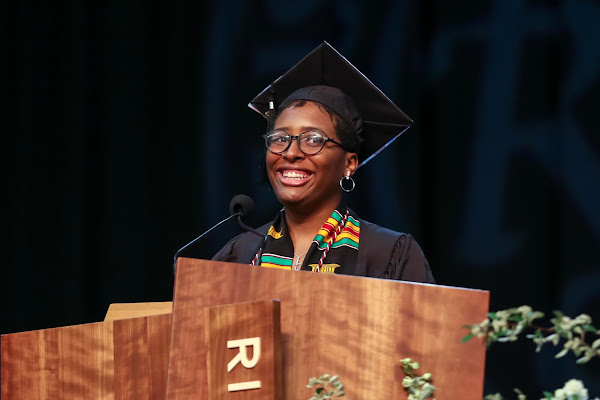 Wood, the Mendelson Award recipient who also delivered the undergraduate student address, celebrated her classmates for "standing together and raising our voices" about the need for greater equity on campus and thanked the community for hearing and responding to their call.
"Our class has had the unique opportunity to not only fight for change but to see it begin to happen," Wood said before asking graduates to set their sights on what's next. "We are responsible for the change we want to see. So I ask you: 'What do you see next?'"
Watch selections from this year's Commencement speeches on Vimeo.
—Robert Albanese / photos by Matthew Watson 09 FAV
June 3, 2019