RISD Students Use Principles of Trauma-Informed Design to Develop Child-Friendly Temporary Housing
Image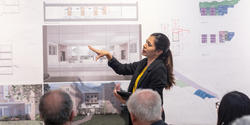 Students in a post-professional Interior Architecture studio focused on adaptive reuse explored the principles of trauma-informed design (TID) in a spring studio, considering how the built environment can create a sense of safety and well-being for people who are recovering from traumatic experiences. Working with real-world client FamilyAid, they developed proposals to convert two possible sites into temporary housing for displaced mothers and their children. 
"The client requested designs that reimagined temporary housing from a child's perspective," says Professor Liliane Wong, who co-taught the class with Assistant Professor Michael Grugl. "As the only right-to-shelter state in the US, Massachusetts is mandated to provide temporary emergency shelter to every family eligible for services."
As the semester came to a close, students presented their work to President and CEO Larry Seamans, who worked closely with students throughout the semester, and his colleagues at FamilyAid Elba Marcillo, Alicia Ianiere and Tanner Spenceley. They used both traditional renderings of their designs and Virtual Reality headsets. With the latter, clients were able to step inside the design plans and move virtually from room to room. Each project team presented their spaces from a child's-eye view, and one team even included narration about the design in the voice of a child.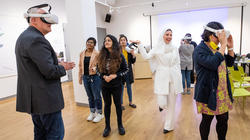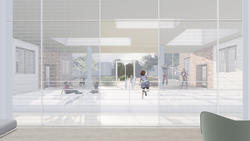 "The need to house homeless mothers and children in the Boston area has grown to enormous proportions," says Wong, "and knowing that homeless children are more likely to become homeless adults, we're focusing on the kids and using TID to diminish the long-term effects of homelessness as much as possible."
Nida Ansari MA 23 and Simran Mehta MA 23 partnered on plans to convert an abandoned Catholic convent into a 29-room shelter, complete with a playground, a communal kitchen and a wall of greenery to offer privacy and solace from inside the building. "Each room has a little kitchenette and a flexible layout to accommodate adults and children," Ansari explains. "We've also added an elevator and four ADA-compliant rooms with their own accessible washrooms."
Parvati Vijaykumar MA 23 and Mariyam Kherodawala MA 23 also adapted the convent site and proposed a bright single-story courtyard insert, colorful mobiles in the corridors and an etched glass façade that ties in with the existing brick while adding a contemporary vibe. "The road that leads to the back of the building is a low point topographically, so it provides some privacy from neighboring houses," Vijaykumar explains. 
Faculty member Yaminay Chaudhri, who participated in an interim academic review, loves the etched glass and describes the communal spaces as "gorgeous." She adds, "In terms of the complex issues of site and place, keep in mind who your designs are serving." 
"The need to house homeless mothers and children in the Boston area has grown to enormous proportions."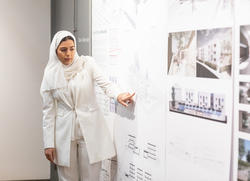 Reem Habis MDes 24 has the needs of displaced children top of mind. She adapted the second possible site, a middle-of-the-road public housing block in Boston's Mattapan neighborhood. Her project, Rooted Ground, responds to the site's challenging topography with a subterranean addition that connects all three of the existing buildings. "The addition is quiet and energy efficient," she says, "and I've added skylights to let natural light in from above." The design also features a communal garden and playground, large colorfully framed windows, an inviting courtyard and "interactive walls" with cubbies and hidey-holes for kids.
Aaron Neal MA 23 also developed ideas for the second site and treated each of the three existing buildings separately. "To address the trauma of living in the streets, I relocated the stairs to the exteriors of the buildings to create units that allow each family to have their own front door," he says. "Accessible pathways allow for the addition of 10 ADA-compliant units on the ground floor and eliminate safety concerns related to the site's steep edge." 
The class was inspired by the overwhelmingly positive response of representatives from FamilyAid, and several students will present their ideas to the Board of Directors at the end of June. As case workers with direct experience serving refugees and other homeless families, FamilyAid staff members are able to provide helpful feedback about how the physical environment impacts an individual's sense of worth and dignity, and how thoughtful design interventions can improve the lives of families in need.
Learn more about the project at familyshelter.cargo.site.
 
Simone Solondz / photos by Jo Sittenfeld MFA 08 PH
June 12, 2023