Collegiate Teaching
Image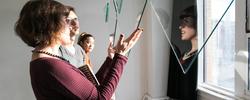 Through exploration, practice and research, the Certificate in Collegiate Teaching in Art and Design (CTAD) offers currently enrolled grad students from all disciplines an opportunity for focused study in the area of collegiate-level studio teaching.
Benefitting from the teaching practices of RISD faculty, in the six-credit program you learn models of teaching that aid you in creating a personal teaching philosophy. Along the way you gain important skills for your development as future faculty in art and design and related disciplines.
For grad students interested in higher education teaching, the certificate endorses your classroom skills and provides a meaningful edge in the academic job market. In addition, those who serve as instructors or co-instructors of a Wintersession course earn official certification of your teaching experience at RISD.
Program requirements
To earn the CTAD without teaching during Wintersession, students take the following required courses offered by the TLAD department, in the following sequence:
Collegiate Teaching: Preparation and Reflection (three credits)
Collegiate Studio: Discipline-centered Learning (three credits)
To earn a certificate conferred with teaching experience, students need to fulfill the following requirements, in order:
complete Collegiate Teaching: Preparation and Reflection (three credits)
complete the Collegiate Teaching Practicum (a three-credit Graduate Commons course offered in Wintersession)
serve as instructor or co-instructor of record of a Wintersession course while concurrently enrolled in Collegiate Teaching Practicum