Society of Presidential Fellows
The Society of Presidential Fellows program enhances RISD's competitiveness in recruiting and retaining its most sought-after students. These students work with faculty on research and creative projects, elevate the educational experience for all students and enhance the reputation of RISD's graduate programs.
2023 Presidential Fellows
Presidential Fellows are selected through a highly competitive process and receive full-tuition funding for the duration of their graduate program. They also participate in special programming designed to enrich their studies and advance their careers, including opportunities to connect with RISD alumni mentors who are creative thought leaders.
Image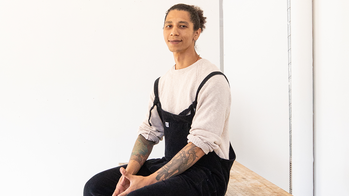 Alfonso Vicencio is a multidisciplinary Black-Latino printmaker and painter from the Washington, DC, area. His work explores the synthesis of analog and digital production processes as methods to navigate the use of images in a world of new media and mass information. Alfonso received his BFA in Printmaking from the Maryland Institute College of Art in 2021.
"One of my primary objectives in pursuing my studies at RISD is to expand my knowledge of global histories and post-digital theories to better develop the narratives of my work and building on my past mixed-media experiments synthesizing printmaking processes with paintings."
Image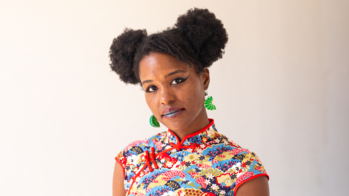 Elise Mollie Williams is an interdisciplinary artist currently located in Savannah, Georgia. Her emotionally-charged work uses sculpture, painting, writing and performance/video works to interrogate and examine both the biological and the intangible structures many of us exist within. Under the microscope she places the absurdities and peculiarities of the roles, rules, and regulations humans construct. Elise trained initially to become a microbiologist at University of North Carolina at Chapel Hill before retraining as a professional artist and receiving her Bachelor of Fine Arts at the Savannah College of Art and Design in 2023.
"With this fellowship and access to RISD's renowned resources and faculty, I hope to expand my work in emotional biology in new and important ways. I am most excited about using the Nature Lab's range of microscopes for research and working closely with faculty on contemporary and interdisciplinary approaches to sculpture."
Image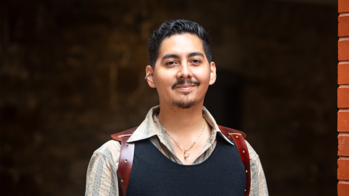 Rene Camarillo is an East Los Angeles born and raised creative who produces handcrafted apparel with themes of immigration, labor, and critique on the social engagement of fast fashion industry practices. Through his work, Rene investigates "privilege pluralism" between consumer and maker, and produces with an emphasis on immigrant diaspora. Rene Camarillo earned an Associate Degree of Los Angeles Trade Technical College in 2019 and has obtained a Bachelor of Arts in Fashion, Fiber and Materials from California State University in 2021.
"I want to move in the direction that will allow me to increase the volume in my voice and provide me with a promising future. I hope to hone my skills and expand my art and garments through social spaces such as galleries, studios and eventually, to the consumer. I also hope to return to East Los Angeles one day and teach my community new skills."
Image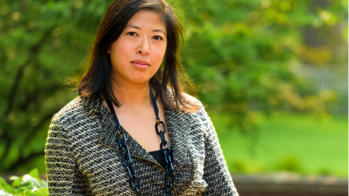 Leslie Anne Condon is a Lao-American multidisciplinary artist and independent curator. As an artist-scholar, she is interested in Critical Race Art History and issues of representation within the arts. Leslie views her public practice, including her artmaking, scholarship, curation, community organizing, and public speaking, as a means to support and advocate for the BIPOC community. She earned her Post Baccalaureate in Fine Art 3D from the Massachusetts College of Art and Design in 2011.
"I look forward to engaging in rigorous research during my studies while maintaining involvement with RISD's many cultural spaces, like the RISD Museum and the Gelman Student Exhibitions Gallery, and working with RISD's Center for Social Equity & Inclusion, which, like my own work, looks to address complex social inequities through creative public discourse."
Image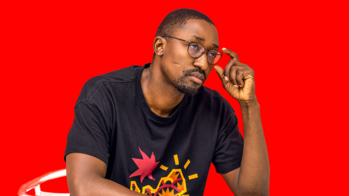 Osmond Tshuma is an award-winning Zimbabwean artist, designer, art director, typographer and curator specializing in African-inspired themes. He is the co-founder of Mam'Gobozi Design Factory, a South African design studio celebrating African identity through design, art and product design. His work challenges conventional approaches by acting as a call to the decolonization of Eurocentrism in graphic design and media, plus as an ode to the beauty in celebrating African culture, heritage, and belonging. Osmond obtained his graphic design degree from the University of Johannesburg in South Africa in 2013.
"I want to change the way the world sees Afrikan design. The SPF program will help me learn more design tools to build our agency and to achieve my dreams of building a design school in Zimbabwe with an Afrikan-centered curriculum."
Image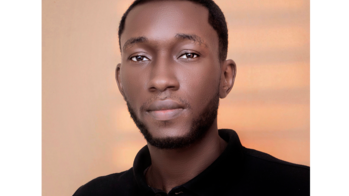 Gabriel Peter is an unconventional architect from Nigeria's Niger Delta region. His passion goes beyond mere aesthetics alone as he actively works on developing sustainable design strategies for areas grappling with the profound impacts of climate change. Gabriel earned his Bachelor's degree in Architecture from Cross River University of Technology in 2022 and has excelled as an interior architect and lead designer for various companies.
"Through this fellowship, I hope to better serve my community by developing resilient nature-based solutions to reduce the impacts of climate change and flooding for the most vulnerable and underserved populations."
Image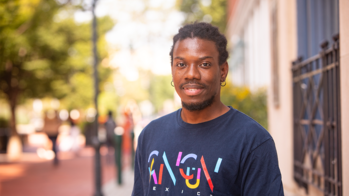 David Legrand MFA 25 PT
David Legrand is a Haitian visual artist based in Maryland. From his upbringing in Haiti, he has witnessed firsthand the devastating impact of political instability and violence in his local community. As a result, his work is committed to raising public awareness about migration and the psychological cost of missing home. By combining elements of anthropology, philosophy, and art, David aims to create a dialogue with the public about the intersection of personal and collective memory. He studied Studio Arts at Montgomery College, later transferred, and graduated with a Bachelor of Fine Arts degree from Cornell University in May 2023.
"I believe this program will provide the ideal combination of theoretical and practical training to help me succeed in my artistic pursuits. I look forward to expanding my knowledge and skills and learning through RISD's distinguished faculty, diverse course offerings, mentors, and peers."
Endow a fellowship
Society of Presidential Fellowship Fund — $1,000,000
The Society of Presidential Fellows was launched in 2019 as a direct line of support for improving RISD's recruitment and retention of highly talented graduate students, many of whom have been opting for competing institutions that offer more generous financial aid packages. Our goal in the next five years is to secure funding for RISD's top 50 graduate students.
Endowed Society of Presidential Fellowships fund a student's full tuition for one to three years of study, depending on the length of their academic programs. Fellows apply to programs through existing processes; department heads and deans then select their most exceptional applicants and final selections are made by the President and Provost. The society is simply a way to guarantee that resources are made available to our most promising applicants.
In addition to providing financial support, the Presidential Fellowship is a notable award that adds to each recipient's professional credentials. Fellows receive a special certificate signed by the President emphasizing the prestigious nature of the award and identifying the benefactor responsible for their award. Presidential Fellows are also invited to participate in special events throughout the academic year with creative thought leaders, and each Fellow is assigned an alumni mentor for the duration of their studies.
As an endowment donor, you will receive annual stewardship reports, which include a financial statement, an overall endowment performance update, biographies on all students in the cohort, an invitation to the annual fall induction ceremony and communications from named fellow(s).
Learn more about the SPF
To find out more about the SPF nomination process, go to graduatestudy.risd.edu, our dedicated website for advanced study at RISD. If you are interested in contributing to the Society of Presidential Fellows Fund please contact us at giving@risd.edu or call 844 454-1877.
More SPF information
Past Presidential Fellows
2022 Presidential Fellows cohort
HUSNA SWALEH ABUBAKAR MFA 24 GD
Husna Swaleh Abubakar earned a Bachelor of Science in Graphic Design and Business Management from Pensacola State College. While her undergraduate interests included typography, fashion editorial work and fashion graphic design, she plans to focus her work at RISD on exploring the Swahili identity through in-depth research of her cultural identity. She wants to challenge her knowledge of her own culture and be able to differentiate between an orientalist structure and an occidentalist perspective as a more authentic account of the Swahili culture.

Husna plans to explore this work through print design as well as through the use of typography, print media, photography, textiles and film. She looks forward to being a part of RISD's guiding and open environment in order to further her research and expand her creative practice. As the first in her family to attain a degree past a bachelor's she values the personal significance of this opportunity.

Husna's fellowship is made possible by the LoveFrom, Presidential Fellowship.
Yasmine Awad Hassan earned a Bachelor of Science in Mechanical Engineering from Brown University in 2017 and is pursuing a Master of Industrial Design from RISD. Her goal is to discover new ways to empower marginalized people to reshape their environments and examine how designers can create affordable, culturally-competent educational opportunities within formal and informal contexts. Following her experience with robotics, art, carpentry, and youth advocacy work, Yasmine wants to stay in the Providence area to grow in her profession and inspire the next generation through counter-cultural, D.I.Y. spaces.

Yasmine's fellowship is made possible by the Building Tall Presidential Fellowship.
ANUJ MALLA MFA 24 FD
Anuj Malla earned a Bachelor of Fine Arts in painting from the Maryland Institute College of Art in 2018 and is pursuing a Master of Fine Arts in Furniture Design at RISD. Everyday objects fascinate Anuj and he has used them in his work in relation to how we identify in everyday life. He is confident that RISD's Furniture Design program will help him excel as an artist and designer.
Aaron Neal earned a Bachelor of Architecture and Bachelor of Interior Architecture from Auburn University. Aaron is mastering what makes a space. He has explored concepts such as light, transparency and redundancy. He is pursuing a Master of Arts in Adaptive Reuse from RISD. Aaron is looking forward to exploring the relationship between adaptive reuse within African American communities and its impact on the environment–ultimately stitching communities back together.

Aaron's fellowship is made possible by the Hillary Blumberg (92 FAV) Presidential Fellowship.
BOLUWATIFE PROMISE OYEDIRAN MFA 24 PT
Boluwatife Promise Oyediran studied Fine and Applied Arts at Emmanuel Alayande College of Education, Oyo, Nigeria, majoring in painting and graphics and graduating with the Best Student in Drawing Prize. He is a writer and contemporary painter working primarily with figuration and text. His practice is informed by a deep commitment to reimagining and reorienting blackness in the canons of history, religion and Western art, using cotton as an essential symbol of interrogation.
In recent years, Boluwatife works have been exhibited extensively; his recent achievements include a 2021 Visiting Fellowship at the Noldor Artist Residency, a 2022 Artist-in-Residence program at Gallery 1957, and an invitation by Adjaye Associates to paint a mural at the National Cathedral of Ghana. He is currently at work on his first novel. His latest writing, published by Iskanchi Press in the United States, is forthcoming in "The Best of Isele Anthology'' in fall 2022. He is excited to join the literary and artistic community at RISD + Brown, and is looking forward to a rigorous studio experience, mentorship opportunities, critique and interdisciplinary explorations in his work.

Boluwatife's fellowship is made possible by the Hillary Blumberg (92 FAV) Presidential Fellowship.
Shey 'Rí Acu' Rivera Ríos (they/them) is an interdisciplinary artist, community organizer, and cultural strategist. Rivera uses storytelling across mediums to create immersive worlds of magic and liberation. Rivera was born and raised in Borikén/Puerto Rico and is based in Providence, RI -land of Narragansett and Wampanoag peoples. They are a mixed race, nonbinary/queer, and proud Taino/Boricua artist who is pursuing a Master of Global Arts and Cultures at RISD after 12 years of experience in the arts sector. They are passionate about helping communities and artists realize justice through creative practice with a social impact.

Shey's fellowship is made possible by the Maxwell/Hanrahan Presidential Fellowship.
ROSANNA VALENCIA MARCH 24
Rosanna Valencia earned a Bachelor of Science in Architecture with a minor in Environmental Design from the University at Buffalo. During her undergraduate studies she was selected to conduct research at the Food Systems Planning and Healthy Communities Lab, where she applied her interests in community engagement and people centered design. Her research focused on the effects of design on food accessibility in the cornerstones of an under-resourced neighborhood.
Rosanna is passionate about advocating for students. As an undergraduate student she was a founder and served as president of AASAP, a student-led club catering to African American Students of Architecture and Planning. Her artistic interests in painting are inspired by her upbringing in the Dominican Republic and they include exploring the roles of migration and memory in space-making for migrant groups. At RISD she is looking forward to being engaged with the artistic community, interdisciplinary classes and mentorship opportunities to expand on her talents and interests.

Rosanna's fellowship is made possible by the Building Tall Presidential Fellowship.
ANGIE ZOU MFA 24 IL
Angie Zou earned a Bachelor of Arts in Sociology and Bachelor of Science in Neuroscience from the University of Michigan, Ann Arbor in 2016 and is pursuing a Master of Fine Arts in Illustration from RISD. Her interest in art sparked from her experience growing up in a polygynous Hmong and Chinese household in suburban Michigan. Her work in visual arts aims to cross the boundaries of age, language and socioeconomic barriers.

Angie's fellowship is made possible by the Hillary Blumberg (92 FAV) Presidential Fellowship.
2021 Presidential Fellows cohort
Denzel Amoah MLA 24
Denzel earned a Bachelor of Science in urban studies with a concentration in planning and public administration from Worcester State University. Throughout his undergraduate studies Denzel explored issues of poverty, housing discrimination, urban exclusion, public space and business zoning through a creative lens, drawing on his photography and design skills to investigate and research these topics. His passion for landscape architecture reflects his focus on the intersection between human ecology and urban greening. At RISD, Denzel is looking forward to immersing himself in the study and practice of landscape architecture that enhances the environment it occupies through innovative and compelling design.
Denzel's fellowship is made possible by the Rosanne Somerson (76) Presidential Fellowship.
Jay earned a Bachelor of Landscape Architecture from the University of Arkansas Fayetteville. Jay is interested in the dialogue between people and places. They explore how design may provide memorable, resilient, and equitable solutions in a shared environment.
Jay's fellowship is made possible by the Building Tall Expendable Presidential Fellowship.
A graduate of the San Alejandro Fine Arts Academy in Havana, Cuba, Mari earned a Bachelor of Fine Arts with a concentration in painting from the University of the Arts, Havana (ISA). While developing her art practice for the last seven years, Mari worked as a professor at ISA, notably authoring a paper on critical positioning in third-year students which was recognized by the school for its importance to the field of art education and instruction. In addition to teaching she has conducted theoretical research, regularly showed work in solo and group exhibitions (including public collections at the Museum of Fine Arts in Boston and the Cisneros-Fontanals Art Foundation in Miami) and secured numerous internationally-funded grants and fellowships. Mari is excited to work closely with our faculty to expand her theoretical, methodological and aesthetic frames of reference, and looks forward to taking an interdisciplinary approach to her practice.
Elbert earned a Bachelor of Science in Technology and Engineering Studies from Brigham Young University. Elbert's approach to design is rooted in his "blue-collar" background. His work centers around finding accessible, natural and functional solutions to the problems that need solving.
Elbert's fellowship is made possible by the Building Tall Expendable Presidential Fellowship.
Dina Khorchid MFA 23 TX
Dina Khorchid (Palestinian, b. 1987) is a visual artist and designer. She earned a Bachelors degree in Visual Communication from the American University of Sharjah and was a fellow at the Ashkal Alwan Home Workspace Program (HWP, 2018-2019) and the Salama bint Hamdan Emerging Artists Fellowship (SEAF, 2016-2017). Dina's work has been showcased in various group shows in the United Arab Emirates, as well as in Lebanon, the United Kingdom and the United States of America. At RISD she is pursuing a Masters of Fine Arts in Textiles. She looks forward to a rigorous, hands-on studio experience and mentorship opportunities to expand on her practice, skills and interest in navigating through personal spaces, landscapes and languages of connection, in relation to the fragility of loss, preservation and memory access.
Dina's fellowship is made possible by a Presidential Fellowship.
Janice Lardey MFA 23 PR
Janice earned a Bachelor of Fine Art, majoring in painting and sculpture, from Kwame Nkrumah University of Science And Technology in Kumasi, Ghana. Janice developed her early love of design and form into a diligent and observational practice, investigating ideas of loss, material effects, ecological changes, human interactions, decay and impermanence. Drawing inspiration from artists like Aboubakar Fofana, Anni Albers and Zora Opoku, Janice's practice is informed by the "charged histories" embedded in the materials she sources. By deliberately blending artistic techniques traditionally practiced by men in her community, she subverts stereotypical ideas and patriarchal limitations. With an eye toward global discourse and expression of her artistic voice beyond the borders of Ghana, Janice is looking forward to immersing herself in creative practice at RISD, seeking critique, new inputs, perspectives and exploration of techniques to support her artistic vision.

Janice's fellowship is made possible by the Distinguished Alumna Presidential Fellowship.
Jahi Lendor MFA 23 PT
Jahi earned a Bachelor of Arts in visual art and graphic design with a minor in art history, and a Bachelor of Fine Arts with a specialization is graphic design from Rutgers University. He views language, medium, materials and objects as ways to process the world around me; collapsing the limitations of painting, sculpture, installation, design and assemblage. Through his work, Jahi strives to show an honest representation of everyday 'blackness,' ranging from trauma to beauty. Through various mediums and creative methods he explores identity, collective memory, and erasure. At RISD, Jahi is seeking growth and exploration of his practice through rigorous studio time, curriculum, and critique. He relishes the opportunity to push the boundaries of his comfort and create more room for artistic development. He is looking forward to forging artistic and professional connections and embedding himself in the creative community here at RISD.
Ayesha earned a Bachelors of Fine Arts with a concentration in sculpture from Washington University in St. Louis. She is a metalsmith, photographer, and graphic designer with a passion for working with non-profit organizations and in support of voluntary initiatives. Through the study of jewelry and metalsmithing at RISD, she looks forward to exploring and communicating "the internal and external, religion and spirituality...the body and soul." Ayesha's awards, honors, and accomplishments include being named an Annika Rodriguez Scholar, a John B. Ervin Scholar, being awarded the 2015 Caroline Risque Prize in Sculpture, and exhibiting at the Benaki Museum during the 2019 Athens Jewelry Week.

Ayesha's fellowship is made possible by the Hillary Blumberg (92 FAV) Presidential Fellowship.
Victor earned a Bachelor of Arts in Environmental Studies with a minor in Linguistics from the University of California, Santa Cruz. His artistic and research interests include environmental aesthetics, green urbanisms, nature in visual culture, design and indigeneity, and ecosemiotics. At RISD, Victor will explore divergent value systems and aesthetic aspirations that shape the disparate availability of urban ecosystem services. Drawing upon visual research methods, he will research and shed light on the entanglements that exist within and among the interstices of urban life and the environment. Victor's future goals include doctoral studies, informed and enhanced by design strategies for tangible change.

Victor's fellowship is made possible by the Hillary Blumberg (92 FAV) Presidential Fellowship.
Gabriel earned a Bachelor of Fine Arts in studio art from Oklahoma State University, Stillwater. Since graduating in 2018 he has exhibited extensively, showing work at dozens of venues as well as virtually during the COVID-19 pandemic. Gabriel's recent achievements and awards include several residencies and fellowships, and his public art has been commissioned and displayed throughout Tulsa and Stillwater for years. Immersing himself in his local artistic community, Gabriel founded a biennial exhibition for local emerging artists in Tulsa. He also worked as an assistant for multiple artists of the Tulsa Artist Fellowship including Yatika Fields, Hoesy Corona, and Shane Darwent. Always seeking to create "productive tension" in his painting, Gabriel's influences interplay throughout his work, building up in layers with disparate references ranging from ancestral heritage, to biological systems, to science fiction and graffiti. With a practice rooted in emotion, improvisation and a drive to explore the materiality of painting, Gabriel is thrilled to join the artistic community at RISD and in Providence, to work closely with our faculty and his fellow students, and to experiment with other media and interdisciplinary practices in his work.
Gabriel's fellowship is made possible by the Roger (Hon. 09) and Gayle (MFA 97 PT/PR) Mandle Presidential Fellowship.
Maximilian earned a Bachelor of Industrial Design from the University of Washington. Maximilian is an industrial and product designer who thrives as a collaborative learner. He is passionate about sound, nature, touch, form, the experiences of others and critique.
Maximilian's fellowship is made possible by the Building Tall Expendable Presidential Fellowship.
2020 Presidential Fellows cohort
Aaron Christopher Jelinek MArch 23
Jelinek earned a bachelor's degree in Rhetoric from the University of California, Berkeley and is Leadership in Energy and Environmental Design, Building Design and Construction accredited; Construction Documents Technology certified; and a member of the Construction Specifications Institute. His personal life experiences have disrupted old ideas as to what constitutes architecture, and he is interested in exploring architecture beyond the physical life of structures.
Jelinek is excited about rigorous studio work where he will have the opportunity to test his ideas, to try and to fail, and to grow as a spatial designer. He is interested in sustainability and passive design as well as finding new channels to harness creative energy.
Lilly E. Manycolors MA 22 GAC
Manycolors is a performing and visual mixed media artist, and single mother whose works focus on themes of non-more-than humanness, Indigenous sovereignty, land liberation and planetary animacy. Manycolors holds an Individualized Studies in Decolonization bachelor's degree from Goddard College, was a finalist in 2019 for Wellesley College's Priscilla Smith Bracket Award, and in 2020 received the Creative City Boston grant from the New England Foundation for the Arts for the Red Dress Lodge installation at the Boston Common, which addressed the need for acknowledging the epidemic of murdered and missing Indigenous women, girls and children.
Manycolors performed in 2020 and 2021 with Shey Rivera and Wilbury theatre's Luna Loba and Fire Flowers productions in Providence, RI. Manycolors and her family are based in the homelands of the Narragansett, Wampanoag and Nipmuc people.
Manycolors' fellowship is made possible by the Hillary Blumberg (92 FAV) Presidential Fellowship.
Watch Manycolors discuss her work in a recent video.
Zoë Pulley MFA 23 GD
Pulley earned her bachelor of fine arts degree in Fashion Design from Virginia Commonwealth University and is a two-time recipient of a Cotton Inc. Scholarship and a recipient of a Cooper Union Summer Scholarship. She was recognized by Ink magazine in 2016 as part of their designer spotlight series. Her interest in telling stories of Black experiences is reflected throughout her work and extends to Gran Sans, a jewelry brand that is an extension of generational practice in making work inspired by her grandmother, Sandra, the project's namesake, where she is a designer and producer—as well as her most current project called Black Joy Archive, a collection of crowd-sourced images accessible online and in a limited print book release. Pulley believes it is crucial to create opportunities that encourage people of color to tell their stories within design spaces, without the obligation that the stories have a certain look or feel.
Pulley's fellowship is made possible by the Hillary Blumberg (92 FAV) Presidential Fellowship.
Diana Sanchez MFA 22 DM
Sanchez earned a master's degree in Design, with a focus on Social Innovation and Design Research, at the University of Los Andes. She is an artist, designer and computational poet from Bogotá, Colombia. She has a background in poetic computation, creative writing and research, and her work bridges art, design, science and technology. She is the founder of Correo Patafísico, a project that inspires young girls to explore the world through scientific and technological activities with an artistic approach. This project has been featured at different conferences, such as New Direction in the Humanities at the University of Pennsylvania and Cumulus Letters to the Future in Bangalore India. Sanchez led a talk on botanic interfaces at the Design Science Symposium, Inclusive Narratives from Nature at the Edna W. Lawrence Nature Lab in September 2019.
Tzyy Yi Young MFA 22 FD
Young holds a bachelor of fine arts degree in Three Dimensional Forum from the University of Washington and has participated in several residencies and workshops including the Murano Residency, Pilchuck Glass School/ Laguna B, Murano Italy. In 2019 she was an artist in residence at Pottery Northwest in Seattle, Washington and the Advanced Sculpting in Glass Workshop at Pilchuck Glass School in Stanwood, Washington. Although her focus has been on ceramics and glass, she wants her work to embrace people and therefore is studying furniture design to explore how function, interaction and aesthetics come together.
Young's fellowship is made possible by the Hillary Blumberg (92 FAV) Presidential Fellowship.
Link copied to clipboard!
Other opportunities to give
Increase scholarships and fellowships and advance social equity so students with limited financial means can benefit from all that a RISD education has to offer.
Provide the critical support RISD needs to continue offering students a world-class education.
Support the extraordinary teachers and makers who are shaping RISD's next generation of artists and designers.