Orientation
Image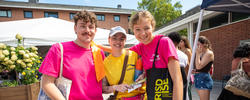 For incoming students, Orientation is your welcome to RISD and all it has to offer. Whether you're a first-year or transfer student, this series of events will help you transition to college life through connection, celebration and community building.
During the summer before you arrive on campus, we offer a webinar series that introduces to available resources and support. Once you get here, you'll meet orientation leaders who will help you build friendships and, through our welcome week programming, connect you with both RISD and the city of Providence. Welcome week events include campus and Providence tours, nightly social activities, and Block Party, our annual student organization fair.
To learn more about move-in dates and orientation programming, head to welcome.risd.edu. Check the site frequently—we regularly post updates and more detailed information as it comes available. Any questions? Please email us at orientation@risd.edu.