David T. Carreon Bradley
Vice President, Social Equity & Inclusion
Image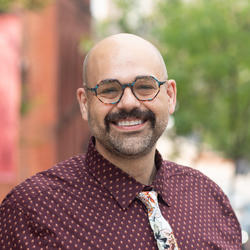 David T. Carreon Bradley (he/they) leverages over 20 years of wide-ranging experience in higher education combined with his personal perspective as a queer, Latinx, first-generation college student from a working-class background to provide institutional leadership and strategic direction for all RISD initiatives related to diversity, inclusion and equity. In his role as RISD's senior-level diversity officer, he partners with the president, other senior leaders, faculty and staff to support the full range of social identities that comprise the diverse community that is RISD. He also uses an antiracism lens to infuse equity into all aspects of the institution, and he helps to create a deep sense of inclusion and belonging for all RISD faculty, staff and students.
Before arriving at RISD in 2023, Carreon Bradley served as vice president for equity and justice and senior diversity officer at Occidental College. Earlier in his career he worked at Vassar College, where he became the first tenured faculty member of color in the physics and astronomy department. While at Vassar, Carreon Bradley expanded his diversity, inclusion and equity administration work and was appointed as the senior diversity faculty-administrator. He then served as vice president for diversity, inclusion and equity at Smith College and as academic diversity officer at California State University, Fullerton. At Occidental, Smith and Vassar, he also held the title of associate professor of physics.
Carreon Bradley has developed and facilitated a wide variety of diversity-related workshops and training sessions and he has helped lead the development and execution of strategic plans for six colleges and universities and three professional societies. He served as a leader in the board of directors for the Society for Advancement of Chicanos/Hispanics and Native Americans in Science, the National Association of Diversity Officers in Higher Education, the Liberal Arts Diversity Officers Consortium, the American Institute of Physics and the Acoustical Society of America.
He conducts research in higher education organizational development; diversity, equity and inclusion in higher education; access and equity in STEM; and acoustics (for which he won the prestigious NSF CAREER Award). In addition to publishing three books and 15 refereed articles, he has presented at over 45 national and international conferences and symposiums.
Carreon Bradley holds a BA in physics with a minor in gender and women's studies from Grinnell College, a PhD in engineering from the University of Nebraska–Lincoln and an EdD in organizational change and leadership from the University of Southern California.