Film and Sculpture Converge in Cross-Disciplinary RISD Studio
Image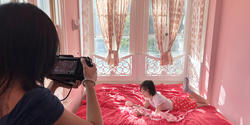 "What is the relationship between the two characters and what does each of them want? Find the tension in the scene by translating their desires into actions."
Assistant Professor Sara Jordenö of RISD's Film/Animation/Video department is meeting on the fly with students in the fall studio they are co-teaching with Sculpture Department Head Heather Rowe. Five student teams are filming original projects in Providence's historic Wedding Cake House, a refurbished Italianate mansion that is now home to an artist residency program run by the feminist collective Dirt Palace.
Just inside the front door, senior Tem Matanmi 24 FAV is working with his team to create a suitably creepy ambience for their ghost story using an eMotimo setup that robotically controls the camera's movements. Senior Sara Jekely 24 FAV—wearing a lacey, old-fashioned dress—walks slowly into the frame, conveying a ghostlike presence.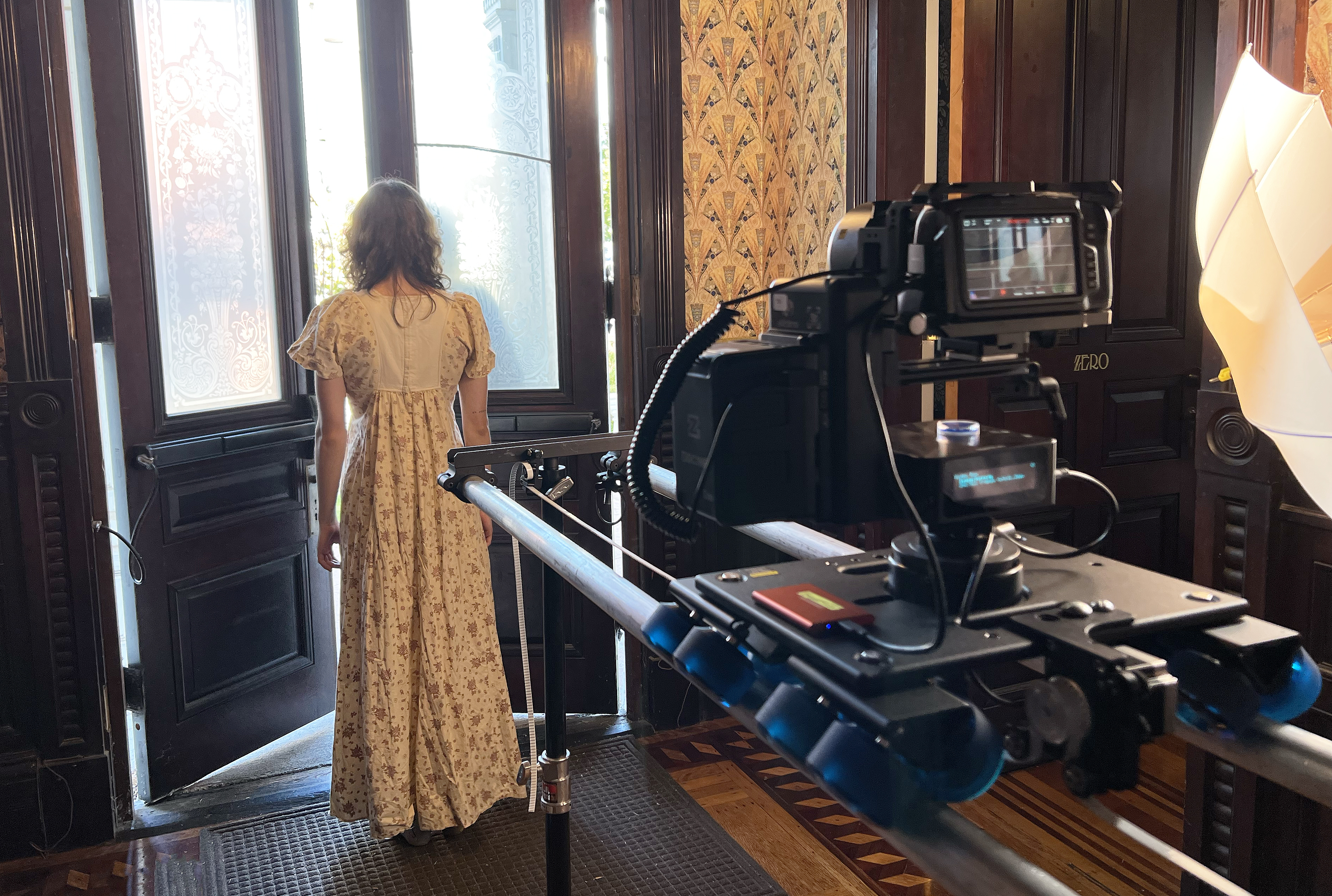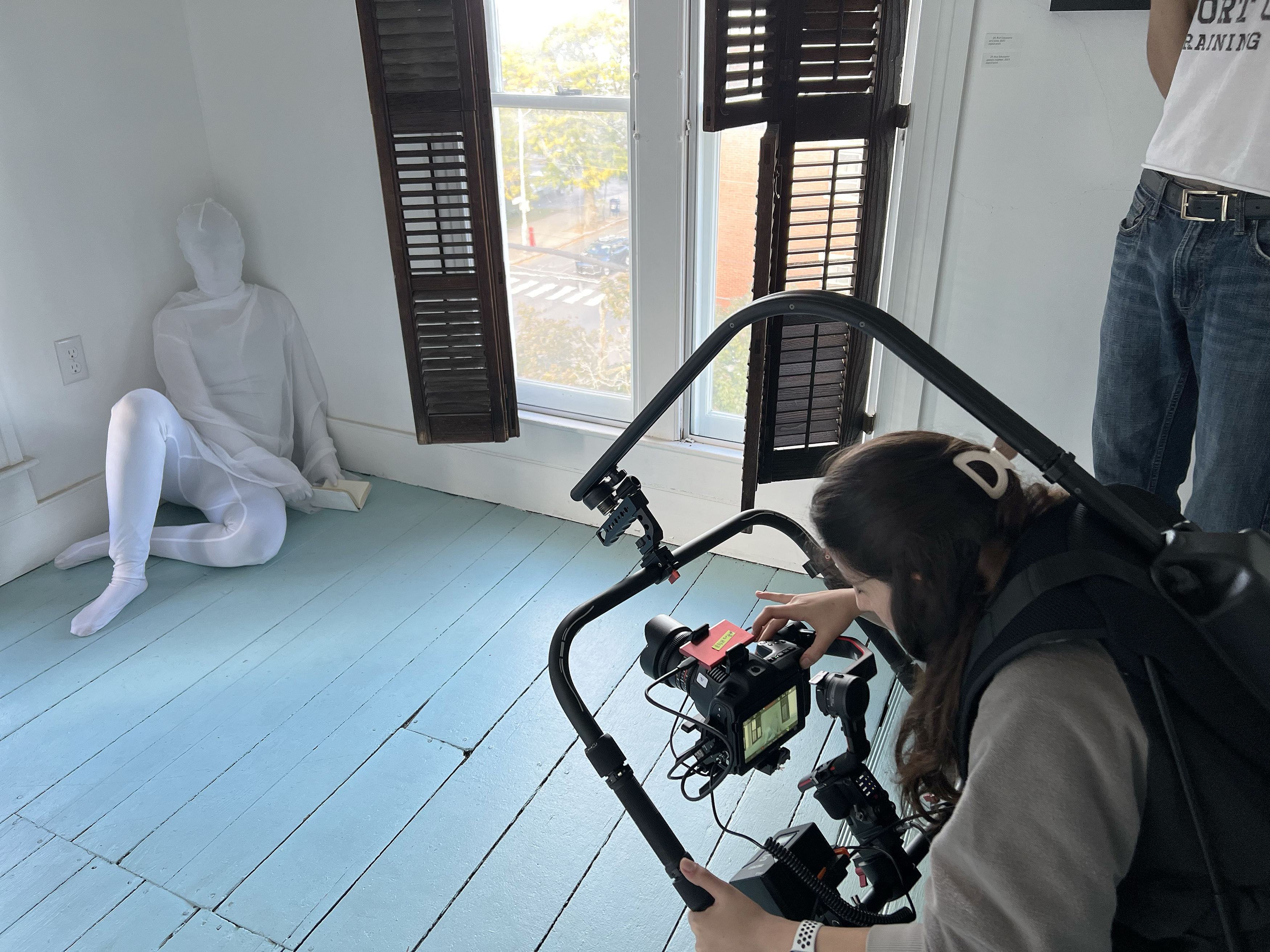 Three flights up, a "white figure" is reading a book of blank pages in a corner of the house's attic, where grad students Elise Williams MFA 25 SC and Hadeel Alkuttob MFA 25 SC are collaborating on a film. "We selected this house for the shoot because we thought researching its history would inspire students to build narratives around it," Rowe explains.
The course is called Reorientations: Movement and Perception in Cinema and Sculpture, and it's the first such collaboration between the Sculpture and FAV departments in RISD's history. Dean of Fine Arts Brooks Hagan MFA 02 TX encouraged the duo to apply for this year's Robert Turner Theatrical and Performance Design Grant (funded by RISD alum Robert L. Turner 74 IL), and with input from Film/Animation/Video Professor Amy Kravitz, the outline of the class fell quickly into place.
"I frequently use film as a catalyst for working through my own ideas," says Rowe, "and it has been really interesting for students to explore with us where the two disciplines come together."
Each assignment the class is tackling builds on the notion that film and sculpture can redefine conventional approaches to theatrical set design by challenging viewers with immersive and cinematic experiences. "One of the main questions of the course is how artists can use movement, sound and materiality to create shifts in perception," Jordenö explains. Using both high-tech and simple tools—including "atmosphere" sprayed from a can that picks up lighting on set—students are making work that plays with time, memory and perspective.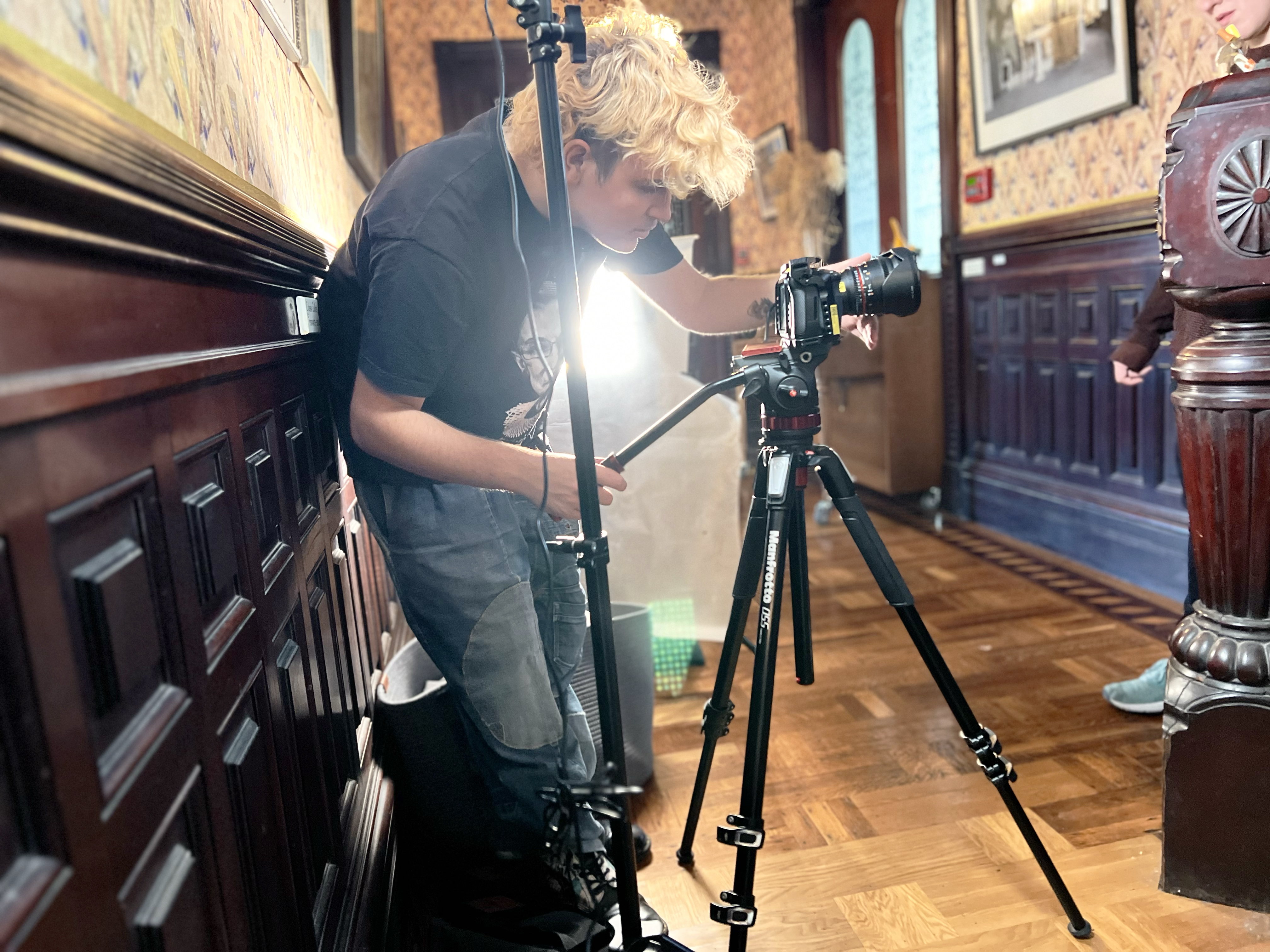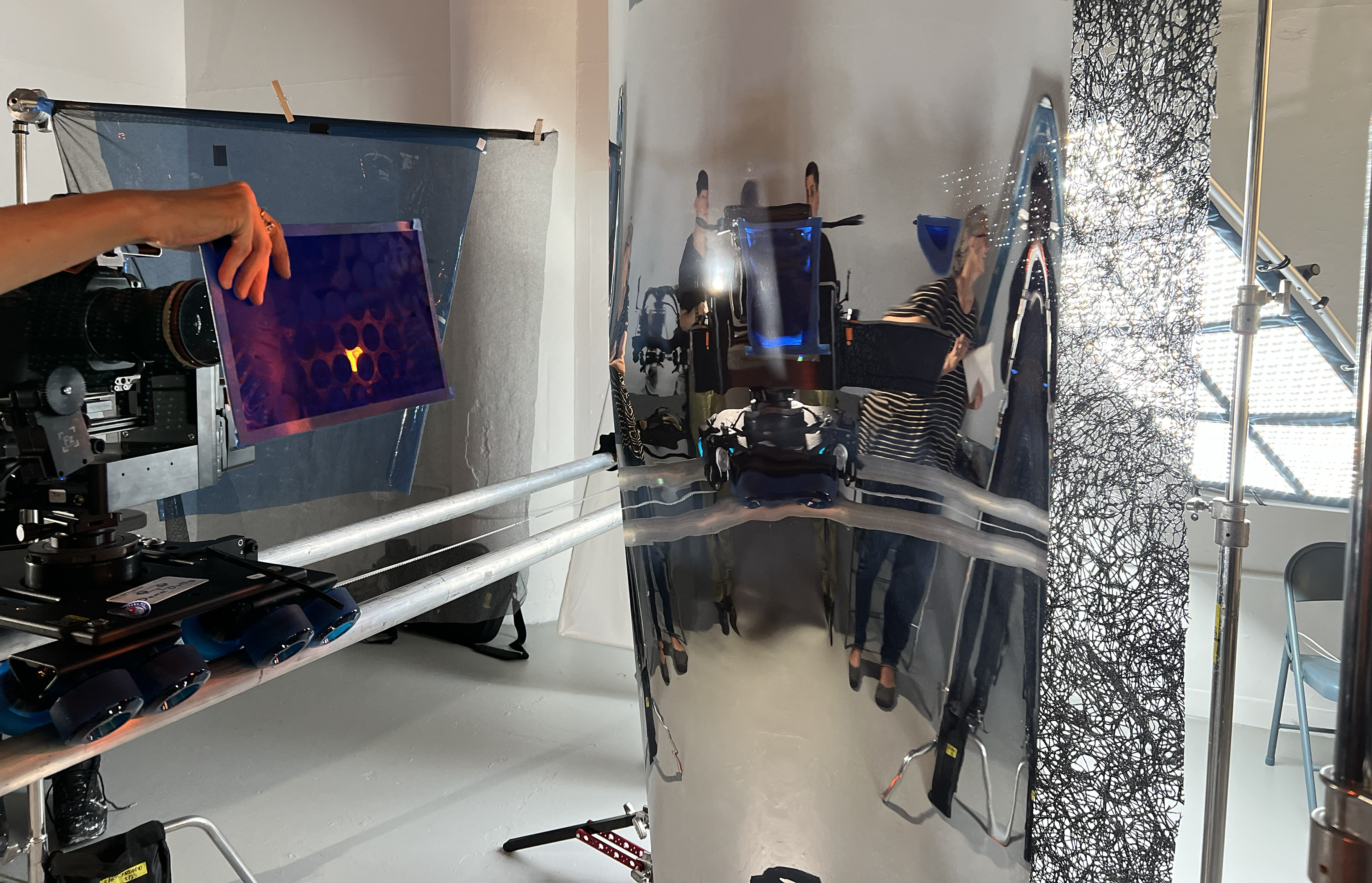 Carson Federizo 25 FAV, Matt Walley 24 FAV and Lucia Steele MFA 24 FD are working together "to create a chaotic retelling of a memory juxtaposed with an elegant dance form." Working with Ballet RI dancers Julia Hughes and Erin Diehl, they're "capturing hazy memories, flashbacks and mental spirals through movement, dance, lighting and visual storytelling."
"We're trying to create the feeling that you're not seeing the full picture—that there is more happening in the scene the viewer doesn't know about," Steele explains. "We're also experimenting with longer takes and trying to make the room feel claustrophobic," Federizo adds.
Buzzy Martin 25 SC and Carrie Kouts MFA 25 SC are playing with camera angles, movement and jump cuts in their short, Laundry Day, which is intended to elevate the mundane household chore and focus on the day-to-day care we put into our homes. "Our intention with this piece is to highlight the importance of textiles in connection with the history of Providence and the Wedding Cake House," Martin explains. "It also reflects the care embedded in the building itself, from the reconstructed chandeliers to the ornate, custom wallpaper."
They place a small GoPro camera face-up on the bed to capture the sheets in motion as Kouts shakes them out. "Let's film this in super slow-mo," they say, "and fix whatever we get in post."
Each of the teams is using such techniques to disorient the viewer by creating what Jordenö describes as "ambiguous cinematic spaces. They're thinking about film as an experience," they note, "and using these tools to produce a visceral reaction among viewers."
top image: juniors Serena Xia and Elaine Jia take advantage of the afternoon light
Simone Solondz / photos by Isabel Roberts
October 30, 2023