Ramon Rivera-Moret
Associate Professor
Image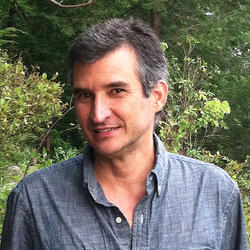 Ramón Rivera-Moret's practice engages an experimental approach to storytelling, bringing together a multiplicity of stories and situations through a mixture of narrative strategies. He is interested in ways to construct cinematic stories beyond traditional paradigms—including the abstract, the fragment and the small gesture—within an open-ended, nonlinear narrative.
Rivera-Moret's films and videos have been exhibited at Anthology Film Archives; Millennium Film Workshop, The Queens Museum of Art, The Birmingham Museum of Art, The American Museum of Natural History, Amherst College, Hampshire College, Chicago Filmmakers and the Ann Arbor, Athens, Chicago Latino and San Francisco Art Institute Film Festivals. He has received grants and awards from The Independent Television Service (ITVS), The National Endowment for the Arts/American Film Institute Regional Fellowships, The Jerome Foundation, the New York State Council on the Arts; the Amherst Art Series Fund; the Institute of Puerto Rican Culture, the Puerto Rican National Cultural Development Program and the Puerto Rico Film Development Fund.
Before joining the faculty at RISD Rivera-Moret taught at Pratt Institute in New York and Amherst College. He has also lectured at Hampshire College and the Queens Museum of Art.
Spring 2023
FAV-5100-01 Film Practices

FAV-5102-01 Intermediate Studio: Live Action

FAV-5102-02 Intermediate Studio: Live Action