Amber Hawk Swanson
Critic - Fine Arts
Image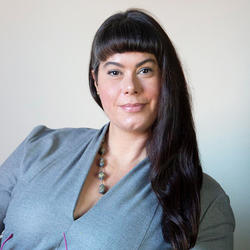 MFA, School of the Art Institute of Chicago
Through performance, Amber Hawk Swanson's work explores care, animacy and desire as they function in the context of queerness and disability. Recent exhibition and screening venues include Palais de Tokyo (Paris, France), PS2 (solo, Belfast, UK), Denny Gallery (New York, NY), Momenta Art (Brooklyn, NY) and Locust Projects (solo, Miami, FL). Hawk Swanson has participated in the New Museum Speculation Seminar (New York, NY), a Lower Manhattan Cultural Council (LMCC) Workspace Residency (New York, NY) and an LMCC Process Space Residency (New York, NY). She has also completed residencies at Yaddo (Saratoga Springs, NY), MacDowell (Peterborough, NH), Skowhegan School of Painting & Sculpture (Skowhegan, ME), Bemis Center for Contemporary Arts (Omaha, NE) and the Sharpe-Walentas Space Program (Brooklyn, NY). Her work is included in the permanent collection of the Museum of Contemporary Photography (Chicago, IL).
Scholarly writing on Hawk Swanson's work has been published in GLQ: A Journal of Lesbian & Gay Studies (2012, 2015), Theatre Drama Review (2012) and Art and Architecture in the Americas (2016). Her work has also been featured in several recent books: Grace Banks' Play with Me: Dolls, Women and Art (Laurence King Publishing, 2017), Cris Beam's I Feel You: The Surprising Power of Extreme Empathy (Houghton Mifflin Harcourt, 2018) and Amber Jamilla Musser's Sensual Excess: Queer Femininity and Brown Jouissance (New York University Press, 2018), which includes a chapter about Hawk Swanson's 2013 collaboration with performance artist Xandra Ibarra.
In addition to collaborating with Xandra Ibarra, Hawk Swanson has collaborated with artists Korakrit Arunanondchai (2012) and Jordan Lord (2015), filmmaker Renato Velarde (2011–18) and a community of mostly anonymous silicone doll owners known as doll husbands (2005–present). She holds an MFA from the School of the Art Institute of Chicago (Studio Arts, 2006) and is a recipient of a 2015 Rema Hort Mann Foundation Artist Community Engagement Grant and a 2014 Franklin Furnace Fund Grant. She has recently taught in the Sculpture departments of Maryland Institute College of Art (Baltimore, MD), Virginia Commonwealth University (Richmond, VA) and Purchase College, SUNY (Purchase, NY). From 2007–08 Hawk Swanson was live on air as a host/producer on Chicago Public Radio's Vocalo, and from 2014–18 she was a registered carousel operator in the state of New York.