Graduate Thesis Exhibition
Image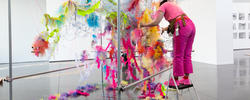 A massive public exhibition of work by students about to earn their RISD master's degrees, the annual graduate thesis exhibition is the culmination of each student's unique experience at RISD.
The show transforms a large space into a network of smaller galleries, affording students an opportunity to showcase multiple pieces from their final body of thesis work.
View RISD Grad Show 2023 online
Join us for Commencement
The graduate thesis exhibition ends its run on the weekend of Commencement, our fun, colorful celebration of the newest art and design standouts to complete their RISD journey. In addition to the commencement ceremony, you'll find other exhibitions on campus, academic department gatherings and more.
More about RISD Commencement