RISD's Graduate Class of 2023 Presents Thesis Work in Wide-Ranging Exhibition
Image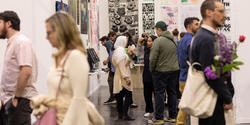 RISD grad students earning degrees in everything from Architecture to Painting to Graphic Design are currently showing their thesis work in Grad Show 2023 at the Rhode Island Convention Center. On view through June 3, the colorful and interactive exhibition opened its doors on May 24 to a large crowd of artists, designers and supporters of this year's graduating class. 
Some of the graduating students have been working strictly inside their disciplinary boundaries, while others are mixing mediums to present entirely unique perspectives. Vital Friction by Lisa Sacco MFA 23 FD combines natural and industrial materials to produce what the Furniture Design grad describes as "simple yet complete gestures that serve as both encounters and confrontations within our system of design and use of everyday objects."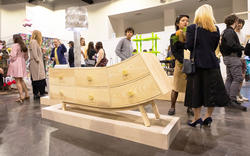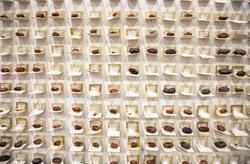 Ceramicist Eman Alhasemi MFA 23 CR covered an entire wall with her series of porcelain-wrapped dates and other unexpected objects. "I have been exploring… traditions, rituals, food, thoughts and behavior," she explains. "I borrow objects and movements from daily life to create a space that is both familiar and unfamiliar."
Nearby, a captivating pair of angel's wings in butter carved by Chloe Kaylor MFA 23 SC drew a crowd of observers as it slowly melted. "My current work focuses on remixing familiar relationships between form, scale and material to create suppositional narratives about the role of class identity within the American experience," the artist explains.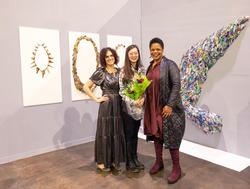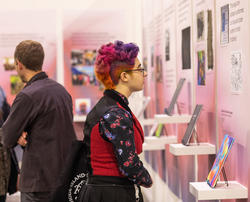 In a gallery devoted to the Industrial Design department, one group of visitors played with wooden and Plexiglass building blocks by Isaiah Aladejobi MID 23 while another group tried out a board game by Cynthia Lu MID 23 intended to teach robotics. "A key step in creating more opportunities for underrepresented voices in the field of robotics is making its education accessible, interesting and relevant," Lu explains. 
One gallery over, students dressed in fantastic knitted balaclavas presented a "wobbly and fragile" conceptual performance piece by Yuxuan An MFA 23 SC based on the powerful ideology of Princess Chives. A lull in the crowd noise drew show visitors to Olam, a motion-activated installation by Ariel Aravot MFA 23 GL in which a felt-covered mallet produces sounds by gently striking the hand-crafted glass bowls the artist placed in a circle.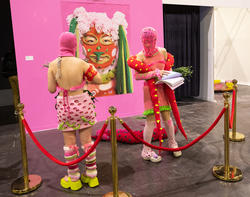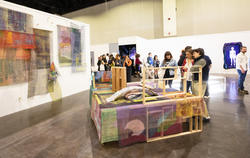 Tess Oldfield MFA 23 DM also experimented with sound as well as the sociological effects of music via Pitch Pipe Choir, a fascinating installation featuring pitch pipes, compressed air, motors, solenoids, microcontrollers, various mechanical parts, glass, vinyl tubing and steel. "Within this work, the ensemble of singers is a connective architecture between sound and space presenting sites of public intimacy," she says. "Ultimately the work is about connection to our bodies, to space and to our communities."
—Simone Solondz / photos by Jo Sittenfeld MFA 08 PH
Visit the exhibition online and read more about RISD's graduate Class of 2023.
June 1, 2023