Alejandro Borsani
Associate Professor
Image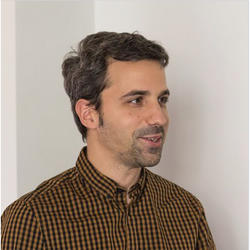 BA, University of Buenos Aires
MFA, Rensselaer Polytechnic Institute
MFA, University of Illinois Chicago
on sabbatical academic year 2022/23
Alejandro Borsani is an artist and educator who explores the intersection of natural and artificial systems by creating videos, installations, sculptures, custom software and electronics. His research is driven by a curiosity about simple physical phenomena and the exploration of emergent technologies. Areas of interest include creative coding, physical computing, 3D modeling/animation, virtual spaces, data visualization and digital fabrication.
Borsani's works have been presented in solo and group exhibitions internationally, including the Buenos Aires Museum of Modern Art; VideoBrasil (São Paulo); Villa Elisabeth (Berlin); Centro Hipermediático Experimental Latinoamericano (Buenos Aires); Centro Cultural Borges (Buenos Aires); Gallery 400 (Chicago); Albany Underground Artists - Athletic Annex Exhibition (Albany); Center for PostNatural History (Pittsburgh); ACM SIGGRAPH (Los Angeles); Galería Sachaka (Tarapoto, Perú); 14th Biennial Symposium for Arts and Technology (New London); Currents, The Santa Fe International New Media Festival (Santa Fe); Red Arrow Contemporary (Dallas) and Federation Square (Melbourne). Review of his work has been featured in various publications, including Leonardo Journal (MIT Press).
Borsani teaches in Experimental and Foundation Studies at RISD. He holds an MFA in Electronic Arts from the Rensselaer Polytechnic Institute (2012) and an MFA in Electronic Visualization from the University of Illinois at Chicago (2010). He also received a degree in Audiovisual Design from the School of Architecture, Design and Urbanism at the University of Buenos Aires (2007).