RISD's Spring 2023 Semester Comes to a Close with Final Critiques
Image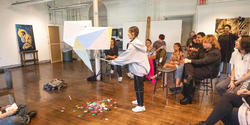 In Providence the month of May means sunshine, flowers and… spring crits at RISD. From the Woods-Gerry Gallery at the top of College Hill down to the Fletcher Building on the other side of the Providence River, campus has been humming with activity as students in every department share their work with peers, faculty members and visiting critics.
 
First-year students in a Drawing section taught by painter and RISD alum Jordan Seaberry 14 PT (see image, above) have been honing their skills as both artists and critics, engaging Seaberry's thoughtful approach to the critique. Each discussion begins with viewer questions, moves on to viewer reflections and finally to the artist's responses and creative intentions. 
Emily Kwak 26 EFS listens intently as the group circles around her hanging mobile asking questions. Why this shape? Is the form purely abstract? How did you treat the surface? When it's time for her to speak, she begins whacking the cardboard piece with a stick until it finally spews a pile of art supplies onto the floor, piñata style. "I wanted to do something experimental," she says. "Piñatas represent new beginnings, and art supplies inspired my beginnings as an artist."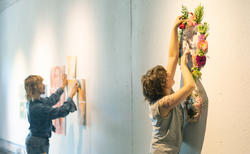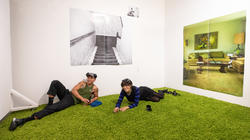 Down the hill in the Design Center, junior Grady Sumrall 24 PH presents a slide show of the quietly humorous images he has created in recent months. "I am always ready to photograph serendipitous moments but also scout for deliberate content," he explains. Assistant Professor Foad Torshizi, who teaches in the Theory and History of Art and Design department, points out that Sumrall's work makes the unnoticed noticeable, and Photography Professor Steven Smith adds that he appreciates the artist's "precise framing and well-developed photographic language." 
Many of the same professors reconvene in the Fletcher Building later in the week to critique work by first-year grad students in the Photography department. Sarah Meftah MFA 23 PH presents an installation representing her grandparents' house in Florida, complete with green shag carpeting. "The piece is really about world-building and bringing viewers into my world," she explains.
"I love how you've projected us into this space," says Department Head Brian Ulrich. "And I appreciate your attention to the mid-century color palette, which was largely established by automobile makers of the day."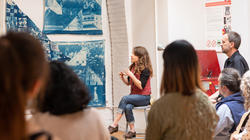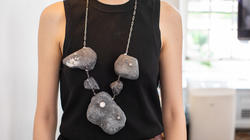 Grad students in Illustration present their final projects in the department's beautiful, naturally lit new space at 159 Weybosset Street. A series of cyanotype-printed muslin squares by Nellie Geraghty MFA 24 IL shows images of family and farm life and brings to mind a hand-sewn friendship star quilt. "Cyanotype seemed like the right medium for this piece since you can't use it without the sun," the artist says. "That is also true of growing food, one of the themes I'm exploring here." 
At a Jewelry + Metalsmithing crit in Market House, junior Myra Menon 24 JM says her wearable art is driven by superstition and her lucky number (three). "We hide a lot of ourselves in the pieces we treasure," she adds. Faculty members and visiting critics pass her pendant around and examine it from every angle. "Your forms and materials are so interesting," notes Critic Seth Papac, "and developing surface patterns is clearly one of your strengths."
Later in the day, Senior Critic Barbara Seidenath asks junior Marshall Baker 24 JM if it's OK to try on the dangerous-looking necklace he is presenting. "You can wear it," he warns, "but it hurts." Baker goes on to share the backstory behind his piece One and Zero, "two flowers on an alien planet that have chosen to face each other." Senior Critic Noam Elyashiv MFA 94 JM appreciates his quirky descriptions of the objects he creates but adds, "You see the world uniquely, but you must not only dream but execute the dream."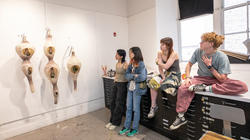 In Printmaking, artist Addy Elkin 24 PR also seems to be dreaming of alien worlds and presents a wall installation constructed of handmade and hand-dyed moss paper that resembles seed pods left behind by extraterrestrials. "Every part of the structures except for the glass pieces was designed to decompose," they explain.
Visiting critic and RISD alum Valeria Herrera MFA 18 PR describes Elkin's piece as "powerful" and suggests that the artist leave the pods out in the wild to decompose and document the process via time-lapse photography. "Seed pods are so full of life," she notes, "so full of potential." 
—Simone Solondz / photos by Jo Sittenfeld MFA 08 PH
June 5, 2023